Rock FM live
No somos un ejemplo a seguir, pero... gracias por hacerlo
Now playing:
Playlist
Boulevard of Broken Dreams
Green Day
1585995557
Message in a Bottle
The Police
1585995286
Blowin' In the Wind
Bob Dylan
1585995106
Agradecido (Version 2004)
Rosendo
1585994846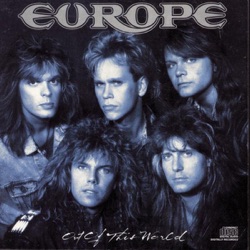 Superstitious
Europe
1585994576
Mr. Jones
Counting Crows
1585994056
Walk This Way (feat. Joe Perry & Steven Tyler)
Run-DMC
1585993756
Changes (1990 - Remaster)
David Bowie
1585993485
Even Flow
Pearl Jam
1585993295
Ama, Ama, Ama y Ensancha el Alma
Extremoduro
1585993025
About Rock FM
Rock Fm es una emisora de radio española del Grupo COPE. Empezó sus emisiones en 2004 con el nombre de Rock & Gol y su programación basada en deportes y música rock. En 2011 adquiere su denominación y formato actual y se convierte exclusivamente en una radio musical.
Es una de las radios temáticas más escuchadas en España, con varias frecuencias distribuidas por todo el territorio. Su enfoque está totalmente en la música y es conocida por sus bloques de una hora de música sin pausas divididos por solamente 6 minutos de publicidad entre ellos.
Programas en destaque
El Pirata y su banda
Marta Vázquez
Diego Cardeña
El Decálogo de Mariskal
RockFM Motel
Frequencies
101.7 FM

89.8 FM

93.1 FM

93.0 FM

89.7 FM

106.9 FM

103.2 FM

94.2 FM

97.9 FM

94.9 FM

105.6 FM

90.7 FM

96.8 FM

91.3 FM

95.2 FM

107.6 FM
Schedule
| Time | Program |
| --- | --- |
| midnight - 6 a.m. | RockFM Noche |
| 6 a.m. - 10 a.m. | El Pirata y su banda |
| 10 a.m. - 2:30 p.m. | Marta Vázquez |
| 2:30 p.m. - 5 p.m. | Diego Cardeña |
| 5 p.m. - 9 p.m. | Raúl Carnicero |
| 9 p.m. - midnight | RockFM Motel |
| Time | Program |
| --- | --- |
| midnight - 6 a.m. | RockFM Noche |
| 6 a.m. - 10 a.m. | El Pirata y su banda |
| 10 a.m. - 2:30 p.m. | Marta Vázquez |
| 2:30 p.m. - 5 p.m. | Diego Cardeña |
| 5 p.m. - 9 p.m. | Raúl Carnicero |
| 9 p.m. - midnight | RockFM Motel |
| Time | Program |
| --- | --- |
| midnight - 6 a.m. | RockFM Noche |
| 6 a.m. - 10 a.m. | El Pirata y su banda |
| 10 a.m. - 2:30 p.m. | Marta Vázquez |
| 2:30 p.m. - 5 p.m. | Diego Cardeña |
| 5 p.m. - 9 p.m. | Raúl Carnicero |
| 9 p.m. - midnight | RockFM Motel |
| Time | Program |
| --- | --- |
| midnight - 1 a.m. | El Decálogo de Mariskal |
| 1 a.m. - 6 a.m. | RockFM Noche |
| 6 a.m. - 10 a.m. | El Pirata y su banda |
| 10 a.m. - 2:30 p.m. | Marta Vázquez |
| 2:30 p.m. - 5 p.m. | Diego Cardeña |
| 5 p.m. - 9 p.m. | Raúl Carnicero |
| 9 p.m. - midnight | RockFM Motel |
| Time | Program |
| --- | --- |
| midnight - 1 a.m. | Música para animales |
| 1 a.m. - 6 a.m. | RockFM Noche |
| 6 a.m. - 10 a.m. | El Pirata y su banda |
| 10 a.m. - 2:30 p.m. | Marta Vázquez |
| 2:30 p.m. - 5 p.m. | Diego Cardeña |
| 5 p.m. - 9 p.m. | Raúl Carnicero |
| 9 p.m. - midnight | RockFM Motel |
| Time | Program |
| --- | --- |
| midnight - 9 a.m. | RockFM Noche |
| 9 a.m. - 2 p.m. | Carlos Medina |
| 2 p.m. - 6 p.m. | Alberto Mazcuñán |
| 6 p.m. - 10 p.m. | Jorge Plané |
| 10 p.m. - midnight | RockFM Fin de Semana |
| Time | Program |
| --- | --- |
| midnight - 9 a.m. | RockFM Noche |
| 9 a.m. - 2 p.m. | Carlos Medina |
| 2 p.m. - 6 p.m. | Alberto Mazcuñán |
| 6 p.m. - 10 p.m. | Jorge Plané |
| 10 p.m. - midnight | Little Steven's Underground Garage |
Contacts
Website: www.rockfm.fm/
Address: C/ Alfonso XI, 4 - 28014 Madrid España
Telephone: +34 900 50 17 99
Email: rockfm@rockfm.fm
Related Stations
Podcasts
Radio Stations by Genre
Twitter