Klassik Radio live
Klassik, Jazz und Lounge zum Entspannen und Genießen
Now playing:
Playlist
Variations and Fugue On a Theme by Mozart, Op. 132: Theme (Andante grazioso)
New Zealand Symphony Orchestra
1685313497
Suite In D Major: IV. the Prince of Denmark's March, "Trumpet Voluntary" (arr. L. Stokowski for Orchestra)
José Serebrier & Bournemouth Symphony Orchestra
1685313357
Children's Corner (arr. A. Caplet): I. Doctor Gradus Ad Parnassum
Jun Markl & Lyon National Orchestra
1685313207
Viola da gamba Sonata in D Major, Wq. 137 (Arr. for Cello & Piano): I. Adagio, ma non tanto
Daniel Muller-Schott & Jonathan Gilad
1685313027
Vremena goda (The Seasons), Op. 67: XIV. Petit Adagio
Alexander Anissimov & Moscow Symphony Orchestra
1685312747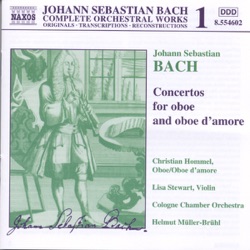 Concerto for Oboe d'amore in A Major, BWV 1055: II. Larghetto
Christian Hommel, Cologne Chamber Orchestra, Helmut Müller-Brühl & Lisa Stewart
1685312297
Symphony No. 1 in E-Flat Major, Op. 20: II. Larghetto con Moto
Alfred Walter & Czecho - Slovak State Philharmonic Orchestra
1685311967
The Fairy Queen, Z. 629 (inst): Act I: Dance for the Fairies
Sir Neville Marriner
1685311907
Piano Trio No. 3 in C Minor, Op. 101: III. Andante grazioso
Christian Tetzlaff, Helsinki Philharmonic Orchestra & John Storgards
1685311687
Music for the Royal Fireworks in D Major: III. La Paix
Prague Chamber Soloists
1685311456
About Klassik Radio
Täglich rund um die Uhr live aus unseren Sendestudios. Die schönste klassische Musik und New Classics zum Entspannen und Genießen. Die beste Filmmusik, Soundtracks, Scores und Hits aus Kino und Streaming Serien. Lounge, Ambient und Chillout Musik und Jazz kostenlos hören. Mit unseren Moderator*innen Thomas Ohrner, Holger Wemhoff, Alexandra Berger, Rolando Villazón, Till Brönner und vielen mehr.
Frequencies
101.3 FM

105.1 FM

107.2 FM

103.9 FM

105.1 FM

90.4 FM

92.2 FM
Schedule
| Time | Program |
| --- | --- |
| midnight - 6 a.m. | Klassik Dreams |
| 6 a.m. - 10 a.m. | Der Morgen bei Klassik Radio - Alexandra Berger und Thomas Ohrner |
| 10 a.m. - 3 p.m. | Geniessen bei der Arbeit mit Klassik Radio - Svenja Sellnow |
| 3 p.m. - 8 p.m. | Die Holger - Wemhoff - Show - Holger Wemhoff |
| 8 p.m. - 10 p.m. | Klassik Radio Ausklang |
| 10 p.m. - midnight | Klassik Dreams |
| Time | Program |
| --- | --- |
| midnight - 6 a.m. | Klassik Dreams |
| 6 a.m. - 10 a.m. | Der Morgen bei Klassik Radio - Alexandra Berger und Thomas Ohrner |
| 10 a.m. - 3 p.m. | Geniessen bei der Arbeit mit Klassik Radio - Svenja Sellnow |
| 3 p.m. - 8 p.m. | Die Holger - Wemhoff - Show - Holger Wemhoff |
| 8 p.m. - 10 p.m. | Klassik Radio Ausklang |
| 10 p.m. - midnight | Klassik Dreams |
| Time | Program |
| --- | --- |
| midnight - 6 a.m. | Klassik Dreams |
| 6 a.m. - 10 a.m. | Der Morgen bei Klassik Radio - Alexandra Berger und Thomas Ohrner |
| 10 a.m. - 3 p.m. | Geniessen bei der Arbeit mit Klassik Radio - Svenja Sellnow |
| 3 p.m. - 8 p.m. | Die Holger - Wemhoff - Show - Holger Wemhoff |
| 8 p.m. - 10 p.m. | Klassic Radio Furioso - Rolando Villazón |
| 10 p.m. - midnight | Klassik Dreams |
| Time | Program |
| --- | --- |
| midnight - 6 a.m. | Klassik Dreams |
| 6 a.m. - 10 a.m. | Der Morgen bei Klassik Radio - Alexandra Berger und Thomas Ohrner |
| 10 a.m. - 3 p.m. | Geniessen bei der Arbeit mit Klassik Radio - Svenja Sellnow |
| 3 p.m. - 8 p.m. | Die Holger - Wemhoff - Show - Holger Wemhoff |
| 8 p.m. - 10 p.m. | Klassic Radio Cinema Show - Florian Schmidt |
| 10 p.m. - midnight | Klassik Dreams |
| Time | Program |
| --- | --- |
| midnight - 6 a.m. | Klassik Dreams |
| 6 a.m. - 10 a.m. | Der Morgen bei Klassik Radio - Alexandra Berger und Thomas Ohrner |
| 10 a.m. - 3 p.m. | Geniessen bei der Arbeit mit Klassik Radio - Svenja Sellnow |
| 3 p.m. - 8 p.m. | Die Holger - Wemhoff - Show - Holger Wemhoff |
| 8 p.m. - 10 p.m. | Till Brönner Show - Till Brönner |
| 10 p.m. - midnight | Klassik Dreams |
| Time | Program |
| --- | --- |
| midnight - 8 a.m. | Klassik Dreams |
| 8 a.m. - 1 p.m. | Schönes Wochenende - Florian Schmidt |
| 1 p.m. - 5 p.m. | Schönes Wochenende - Anna Baumgart |
| 5 p.m. - 6 p.m. | Gesunde Stunde - Clemens Benke |
| 6 p.m. - 8 p.m. | Klassik Non-Stopp |
| 8 p.m. - 10 p.m. | Till Brönner Show - Till Brönner |
| 10 p.m. - midnight | Klassik Dreams |
| Time | Program |
| --- | --- |
| midnight - 7 a.m. | Klassik Dreams |
| 7 a.m. - 8 a.m. | Klassik und Kirche |
| 8 a.m. - 11 a.m. | Schönes Wochenende - Joannes Weisz |
| 11 a.m. - noon | Länder dieser Erde - Joannes Weisz |
| noon - 2 p.m. | Klassik Radio Furioso - Rolando Villazón |
| 2 p.m. - 3 p.m. | Lesezeit - Clemens Benke |
| 3 p.m. - 6 p.m. | Schönes Wochenende |
| 6 p.m. - midnight | Klassik Non-Stopp |
Related Stations
Radio Stations by Genre
Twitter