Classical Music . network live
Quality music radio
Now playing:
Playlist
Piano Concerto No. 27 in B-Flat Major, K. 595: I. Allegro
Maria João Pires
1586383818
Suite bergamasque, L. 75: 3. Clair de lune
Lang Lang
1586383397
Concerto In F Major Rv 542 for Violin, Organ, Strings and Continuo: III. Allegro (Vivaldi)
Ensemble Pian & Forte, Erina Gambarini & Gabriele Cassone
1586383258

Maple Leaf / Bird In the Bush
Sue Richards
1586382661

Tritsch-Tratsch Fast Polka op. 214 / Tritsch-Tratsch Polka schnell op. 214 / Tritsch-Tratsch Polka op. 214
Franck Pourcel and His Orchestra
1586382486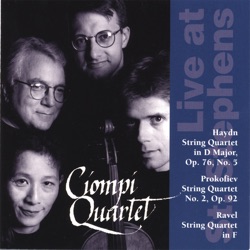 Maurice Ravel, String Quartet In F
Ciompi Quartet
1586379092
Six Bagatelles
Kronos Quartet
1586375688
4.9 Cm
D-51
1586372580
Public Service Announcement '19
Renekade
1586372547
Ab Cm Bdim Cm
Woodpeckerman
1586369352
About Classical Music . network
Inform, educate and entertain: We're quality music radio for the world... an educational non for profit institution preserving light concert music, semi-classical, symphonic, chamber and solo classical selections...relax.
Related Stations
Radio Stations by Genre
Twitter